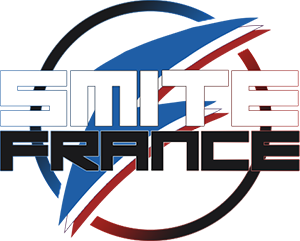 Notes du patch du Mardi 20 Octobre 2020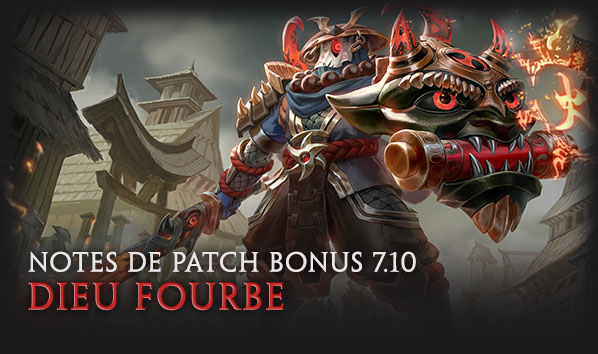 Patch 7.10
Le Dieu Fourbe | Notes de Mise à Jour Bonus
Merci à Kingkkrool pour la traduction.

Nouveaux Costumes de Dieux
Arès Gardien Oni (Oni Guardian)

Exclusif | Odyssée

Ratatosk Raxolotl

Exclusif | Odyssée

Sól Etoile Déchue (

Fallen Star)

Exclusif | Odyssée

Fenrir Fengroar (

Finrawr)

Exclusif | Coffre Revanche Aquatique

Daji Rigolocalypse (Fun-Pocalypse)

Exclusif | Coffre Rigolocalypse

À PROPOS DU CHAMPIONNAT DU MONDE DE SMITE

La fin de la Saison 7 arrive à grands pas ! Cette mise à jour que vous lisez maintenant est la mise à jour de Novembre, ce qui veut dire qu'il n'y a plus qu'une mise à jour en Décembre avant les Championnats du Monde de SMITE (SWC) ! A l'approche des SWC, nous ajustons toujours légèrement notre philosophie d'équilibrage. Nous nous concentrons sur l'équilibrage de haut niveau compétitif et implémentons de gros changements en Novembre. Donc nous faisons davantage attention et ne faisons que de petites modifications ou corrections de bugs en Décembre. Lors de cette mise à jour, nous allons faire beaucoup de changements qui pourraient affecter la scène professionnelle, spécifiquement en affaiblissant les Dieux les plus joués en Ligue. Il y a aussi quelques améliorations intéressantes que nous attendons impatiemment !

ÉQUILIBRAGES

Objets
Cherche-Coeur (

Heartseeker)
"There has been a lot of discussion on damage and penetration since Mid Season 7, and our stats show that Assassins are contributing to most of the damage increases. They got some strong new items and meta shifts that has empowered them to deal more DPS than previous eras of SMITE. We are making two adjustments to this concept. First, Heartseekers % Health damage is coming down across the board, to reduce damage to tanks.."
Réduction des dégâts bonus de 3-6% à 2-5% de la Santé maximale des cibles.
La fourchette de dégâts dépend toujours des mêmes valeurs de Santé.
---
Lame Crantée (Serrated Edge)
"Along with the Heartseeker change, we are also applying a small nerf to the stats on Serrated Edge. This item is allowing Assassins to run down enemies of all types, so we are nerfing the movement speed in line with our past concerns about too much of that stat floating around the game, as well as to take a little bit of "edge" of this item's total stats."
Réduction de la Vitesse de Déplacement de

10%

à

7%

.
Dieux
Amaterasu
"It pains me to type this but we have yet another nerf for Amaterasu. She has continued to dominate pro play with her stronger early game that transitions well into late game team presence. Her Ultimate provides high damage and high CC, and was at a surprisingly low cooldown for its strength. Ultimate cooldowns tend to affect the highest level of play more than ranked or normals, so this feels like a fair nerf for her considering that she has had a few in a row now."
Offensive Eblouissante (Dazzling Offensive)
Augmentation du Temps de Rechargement de

75s

à

95/90/85/80/75s

.
---
Cupidon
"This little guy has been putting up big numbers. Cupid has quickly become the actual #1 hunter across the game, in both pick/ban% as well as win-rate. When looking at his numbers there is one that clearly stands out. Heart Bomb has an insane amount of Physical Scaling. His early lane clear is much better with recent buffs, and his team fight presence has always been top tier, so it seems fair to bring down his primary damaging ability."
Bombe-Coeur (Heart Bomb)
Réduction de la Contribution Physique de

90%

à

80%

sur les deux coups (de

180%

à

160%

au total.).
---
He bo
"The god with 4 ultimates. A nickname affectionately given to He Bo's powerful kit. Even with high pro performance for most of the season, he tends to coast under the radar for casual players. He Bo is a riskier Mage with an all-in play style who flexes well into the Jungle. We are taking down his damage as well as his utility to make sure there is room for more mages in the meta."
Canon à Eau (Water Cannon)
Réduction des dégâts de 70/120/170/220/270 à 60/110/160/210/260.
Atlas de la Rivière Jaune (Atlas of the Yellow River)
Réduction du Ralentissement de

25/30/35/40/45%

à

20/25/30/35/40%

.
Réduction du bonus de Vitesse de Déplacement de

25/30/35/40/45%

à

20/25/30/35/40%

.
Héra
"The Queen of the Gods has become the Queen of the Mid Lane. Hera, and Argus, bring some unique utility to the Mid role, while also having high damage and strong CC. Hera is surprisingly hard to gank for a goddess with no mobility. This is an expected result of her strong self peel, but it can also be directly balanced through adjustments to her shielding ability. We are bringing that level scaling number down to put Hera players in a bit more danger throughout the match."
Linceul Divin (Divine Shroud)
Réduction de la Santé du Bouclier de

20*Niveau

à

15*Niveau.
Hercule
"There are few things more frightening than a Hercules running at you full speed ready to burst you down. Strength From Pain provides Hercules with a large amount of free stats that make him difficult to effectively fight, allowing a full tank Hercules to brawl with the best of them. Decreasing the power gained from this Passive will improve many scenarios where it feels like a Herculean effort to overcome Hercules."
Douleur Renforçante (Strength from Pain)
Réduction de la Puissance Physique de

5+1

par niveau à

2+1

par niveau par cumul.
Kuzenbo
"HEEEEEEEEYYY! Kuzenbo's level one Sumo Slam has slain many a god. The damage potential of this ability became apparent once Sumo Slam was given a more forgiving turn radius. We like the reward Kuzenbo players get for playing aggressive and utilizing its damage, but this was simply too much."
Frappe Sumo (Sumo Slam)
Réduction des dégâts de

80/110/140/170/200

à

60/95/130/165/200

.
Loki
"Loki's rework has hit the battleground to great reception! He has been in the majority of games and the feedback surrounding his previous frustrations seem to be greatly improved. The goal was to bring new strengths to his ability to fight enemy gods while giving enemies more room to counterplay his previous tactics. He is essentially a new god in terms of balance which means players still have some learning to do before they can fully unlock his potential. With that being said we do see some consistent feedback around power and feel and want to address those while players continue to learn him.

Agonizing Visions felt like it lacked a little damage even when getting a target stuck inside it. A boost to its scaling will help Assassin Loki's who find good opportunities get more damage out. Flurry Strikes is also getting a scaling boost on its initial damage with an additional slow to anyone that is hit by the first five strikes. The reward for landing Flurry Strikes as well as the ability to keep someone in it was too high so these changes will help Loki bring more consistent higher damage to a fight. We will continue to watch new Loki and look forward to seeing his gameplay evolve over the course of the next few patches!"
Visions Agonisantes (Agonizing Visions)
Augmentation de la Contribution Physique de

10%

à

15%

.
Frappe Rafale (Flurry Strike)
Augmentation de la Contribution Physique de

15%

à

18%

sur les 5 coups initiaux. (de

135%

à

150%

en contribution Physique totale, 5 coups initiaux et coup final.)
Chaque coup initial inflige un

Ralentissement de

15%

qui se rafraîchit. Le dernier coup inflige un Ralentissement de

30%

.
Rāma
"The snipe montages have been flowing freely ever since Rama's heavy balance adjustments earlier this year. These changes caused Rama to skyrocket in priority to the top of the role. His lane phase and consistent damage output are both strong, but what seems to be making the biggest impact in pro play is team coordination with his ultimate to pick off high profile targets. We are taking this damage down slightly to make these picks a little harder to pull off."
Barrage Astral (Astral Barrage)
Réduction des dégâts de base de

180/270/360/450/540

à

180/265/350/435/520

.
Sun Wukong
"In this Bonus Update we will be nerfing a lot of the top SPL picks in every role. Junglers had their items nerfed instead, but every other class will be seeing nerfs to the top 2 gods. Sun Wukong has steadily risen in performance throughout the year due to some direct buffs and meta shifts. He can dish out a lot of damage while also being extremely evasive for a Warrior. We are taking down the top-end damage on his ult to bring him in line with the rest of the class"
Nuage Culbute (Somersault Cloud)
Réduction de la Contribution Physique de

120%

à

100%

.
0 Commentaire(s)
SUR "

Notes du patch du Mardi 20 Octobre 2020

"

Copyright Smite France © 2013-2020