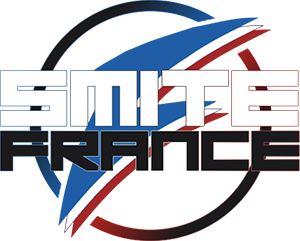 Notes du Patch du Mardi 13 Février 2018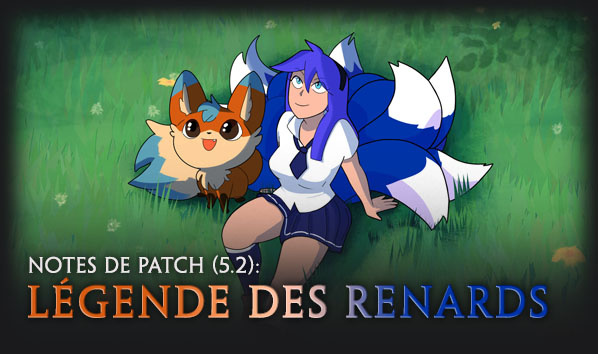 Patch 5.2 : Légende des Renards
---
Merci à Kingkkrool pour la traduction.

Nouveaux Costumes de Dieux
---
---
---
---
---
---
---
---
---


Nouvelle Aventure : « Légende des Renards »

[ Fonds d'Écran : 1920×1080 | 2560×1440 | 3840×2160 | 1080×1920 ]
« Da Ji is calling upon you to serve her in defending the last of the foxes! Protect the adorable vulpine critter from an unending assault of minions, Elite monsters, Bosses, and the Gods themselves to earn her favor! This new smite adventure is available in 5.2 through 5.4. For more information check out our Adventure site or FAQ! »
Bouquet Senpai
• 

Costume de Daji Senpai

• Avatar Renard

• Écran de Chargement

• Thème Musical

• Points Renards x2

• Clef d'Or


Événement « Ragnarök »

Bouquet Furie d'Or
• Cerbère Molosse de l'Oubli

• Discorde Reine de l'Oubli

• Avatar Cerbère Mignonnet

• Timbre de Saut Crâne

• Clef en Fusion

Autres Contenus Cosmétiques

► 

Music Dance Hi-Tech (Emote)

► Bond…Hockeyyy… (Timbre de Saut)

► Crâne (Timbre de Saut)

► Meneur de Jeu (Pack de Commentateur)

► Aventure Senpai (Thème Musical)

► Avatar Cerbère Mignonnet

► Avatar Renard

Équilibrage des Objets
« In 5.1 we introduced a huge amount of item changes and re-designs. Mages had the most change, and many of their builds are still in the very early concept stages. However, one class and role had a clear outlier in its strength: Hunters with Critical Strike and Lifesteal. The following 3 items are being adjusted to address this build. Critical Strike is a difficult mechanic to balance. Our goal in 5.1 was to make Crit more consistent but deal less overall damage. We feel like the changes were a success, but the build path was clearly overshadowing other options so we want to adjust a few things slightly and make sure Hunters can enjoy just as much build diversity as the other classes of SMITE. »
---
| | |
| --- | --- |
| | Condamneur (Deathbringer) |
•

Réduction de la Puissance Physique de 50 à

40

.


•

Réduction des Chances de Coups Critiques 35% à

25%

.

•

Augmentation du bonus de dégâts Critiques de 25% à

30%

.
---
| | |
| --- | --- |
| | Gantelet du Dévoreur (Devourer's Gauntlet) |
•

Augmentation du Coût de 2100 à

2300

.

---
| | |
| --- | --- |
| | Asi |
•

Réduction de la Pénétration Physique de 15 à

10

.

---
Talisman d'Energie (Talisman of Energy)

"This new Guardian item had interesting possibilities but too many limitations. We are adjusting the stacks on Talisman of Energy to reach the same total power but at a much faster rate. Now Guardians can empower their team with a boost of stats after every minion wave."
•

Réduction des Charges des 10 à

5

.

•

Augmentation de la Vitesse de Déplacement par Charges de 1% à

2%

.

•

Augmentation de la Vitesse d'Attaque par Charge de 1% à

2%

.

•

Augmentation des PdM5 par Charge de 5 à

10

.
---
Maille Midgardienne (Midgardian Mail)

« Midgardian Mail has fallen out of favor for quite a while. It has a very powerful and somewhat inconsistent passive but its stats didn't quite compete. We want to make sure that Guardians don't feel punished by picking up this item as a strong counter to fast attacking opponents. »
•

Augmentation de la Protection Physique de 30 à

40

.

---
Arc d'Atalante (Atlanta's Bow)

"Atalanta's bow has the movement speed to make it a unique physical item, but its damage stats and cost didn't earn it a spot in most builds. We are taking the cost down and bringing the Attack Speed up to help it better compete with other Attack Speed options."
•

Réduction du Coût de 2300 à

2200

.

•

Augmentation de la Vitesse d'Attaque de 25% à

30%

.
---
Gemme d'Ame (Soul Gem)

"We like this item's identity of being able to heal yourself and others from using your abilities. While this item varied in power heavily based on which god purchased it, it also had unintended interactions that caused it to further boost its power. We plan on making a design change to this item to address this, while keeping its core identity intact."
•

Cet objet fera son grand retour une fois qu'il aura fait peau neuve (en théorie pour le patch 5.3).

Modifications des Dieux

ARÈS

« The changes to Conquest in 5.1 have created quite a few difficulties for Ares. His Abilities don't do much damage to lane minions, he has trouble killing jungle camps, and he has no mobility to help with rotations. All of these aspects have become even more important for Guardians. Ares is getting more minion damage on Shackles and lower mana costs on Bolster Defenses to help him better fill a traditional support role. »
Chaînes (Shackles)

•

 Augmentation des Dégâts contre les Sbires de 50/70/90/110/130 à

70/90/110/130/150

.
Défenses Renforcées (Bolster Defenses)

•

 Réduction du Coût de Mana de 60/65/70/75/80 à

40/45/50/55/60

.
---
NEITH

"Through previous Seasons, Neith has survived through her strong abilities with less of a focus on her basic attacks. As SMITE has progressed it has become clear that even ability focused hunters need strong basic attacks. Neith's base power stats were nearly the lowest in the entire class, so we are bringing those up to let her basic attacks compete and add even more punch to her strong damaging abilities."
Général

•

 Augmentation des Dégâts des Attaques de Base de Base de 35 à

38

.

•

 Augmentation des Dégâts des Attaques de Base par Niveau de 2,3 to

2,5

.
---
THOR

"The new jungle respawn timers have put Thor in an awkward position. His fastest clearing ability is a channeled ability that does not immediately go on cooldown. This results in him often showing up to camps without being ready to clear them. The god of thunder is getting a cooldown reduction on his spin-to-win so that he can keep up with the pace of the Season 5 Conquest jungle."
| | |
| --- | --- |
| | Barrage Furieux (Berserker Barrage) |
•

 Réduction du Temps de Rechargement de 13s à

11s

.
---
VULCAIN

"Vulcan is one of the mages who was hit the hardest by the Rod of Tahuti re-design. He is most successful as a late-game extreme burst mage but he is now having a harder time bursting enemies down. His cannon pet cannot utilize a lot of the unique passives that mages are building into with the item slots opened up in Season 5. To bring his late game burst back up we are increasing the Magical Power Scaling on Magma Bomb."
Bombe Magma (Magma Bomb)

•

 Augmentation de la Contribution Magique de 70% à

80%

.

5 Commentaire(s)
SUR "

Notes du Patch du Mardi 13 Février 2018

"

Copyright Smite France © 2013-2018