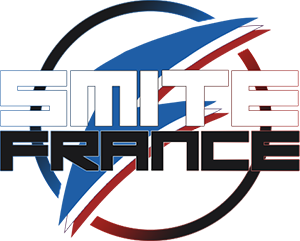 Notes du Patch du 17 Décembre 2018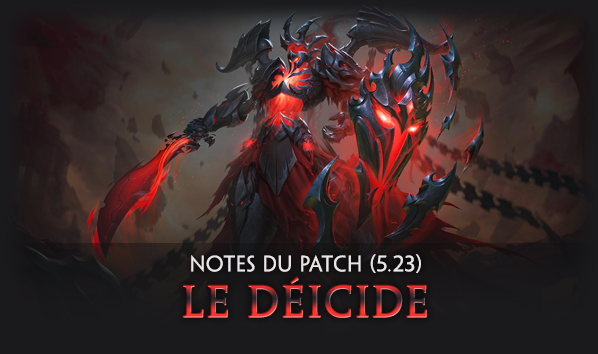 Patch 5.23 : Le Déicide
---
Merci à Kingkkrool pour la traduction.
Nouveaux Costumes de Dieux
---
---
---
---
---
---
---
Odyssée d'Héra – Des Rois et des Dragons
Objets Achetables
•

 Hel Double Hi-Tech

•

 Serket Chatte Kabou

•

 Izanami Traqueuse de l'Ombre

•

 Zhong Kui Horreur Cousue

•

 Trace Mortuaire Héra Contrariée

•

 Effet de Montée de Niveau Royal

•

 Costume de Balise Argos
---
Objets Bonus
•

 Thème d'Interface Royal

•

 Héra Reine de Bataille

•

 Arès Le Déicide
Nouvelle Aventure
Loki sur la Liste des Enfants Pas Sages
Loki est sur la Liste des Enfants Pas Sages, et c'est à vous de le punir ! Revoyagez à Helheim et affrontez le Dieu Fourbe dans la bataille finale épique de Ombres sur Hercopolis ! Mais préparez-vous, la rencontre proposera de tous nouveaux défis, et Loki aura clairement de nouvelles cartes dans sa manche.
Projet Olympe
Cadeaux aux autres Joueurs
•

 C'est la saison des cadeaux ! Avec la mise à jour 5.23, vous allez pouvoir envoyer des cadeaux directement aux autres joueurs ! Pour plus d'informations sur cette nouvelle fonctionnalité, n'hésitez pas à venir lire

cette page

pour plus de détails !
---
Interface
•

L'écran de jeu et l'écran de sélection des personnages ont été mis à jour sur PC.
•

 La Liste d'Amis et le Menu de Groupe ont été mis à jour sur toutes les plateformes.
Divers
Coffre Époustouflant
Nouveaux Ajouts au Coffre Époustouflant

•

He Bo En Fusion

•

Athéna Gardienne Mystique
---
Boutique de Points de Fantaisie
Nouveaux Ajouts à la Boutique de Points de Fantaisie

•

Morrigan Métal Torsadé

•

Sobek Kaijū

•

Bellone La Tourmenteuse
---
Nouveaux Objets de Personnalisation
•

Avatar Sanguin

•

Cadre de Chargement Sanguin

•

Timbre de Saut Le Déicide

•

Sigle de Rappel Le Déicide
---
Costumes
•

Baron Samedi Comte ne sera pas disponible avec la mise à jour 5.23. Ce costume sera disponible un peu plus tard.

•

Les costumes de Maîtrises de Zhong Kui ont été mis à jour.
Corrections de Bugs
Général
•

Correction d'un problème avec le cibleur rouge au sol n'apparaissant pas au niveau des camps de bonus dans le tutoriel.
---
Console
•

Correction d'un problème où les Filleuls recevaient une erreur en essayant le tutoriel.
---
Costumes
MERCURE ÉTINCELLE SHÔNEN

►

Correction d'un problème où ce costume pouvait jouer plusieurs pistes en une seule compétence.
---
Objets
AMULETTE D'ÉGIDE (AEGIS AMULET)

►

Correction d'un problème où Amulette d'Égide Améliorée pouvaient être utilisée à des moments imprévus comme en effectuant une compétence.
---
Dieux
AH MUZEN CAB

►

Mise à jour de la description de la compétence « Abeilles ! (Bees!) » afin d'indiquer combien de dégâts sont infligés.
HEL

► Réduction des chances que Hel parle lors de la compétence « Changement d'État (Switch Stances) de 100% à 60%.
Équilibrages – Dieux
AH PUCH

"When Mid Season hit Ah Puch rose from the dead, becoming a strong pick in Conquest while continuing his strong performance in other modes. The keys to his success were his new early game strength and the fact that Empty the Crypts had more staying power. With this patch we are looking to tone down aspects of his kit to increase counterplay options without changing what makes him a valuable pick: zone control and burst DPS.

Undead Surge is seeing a decrease in its slow duration, both reducing his ability to chase or peel enemies off himself. Empty the Crypts is also seeing a duration reduction. The zone control and pressure this ultimate provides gave teams large openings to siege objectives or stall out engages. The reduced duration should give teams more openings in these situations."
Vague de Morts-Vivants (Undead Surge)

•

Réduction de la Durée du Ralentissement de 3s à

2s

.

Vidage des Cryptes (Empty the Crypts)

•

Réduction de la Durée de 6s à

5s

.

---
CÙCHULAINN

"Early on in Season 5, Cu Chulainn was quite the powerhouse, receiving 3 nerfs to bring him more into line. As the Season has shaped out however, Cu Chulainn has struggled to keep up.

Overall, his Berserk form is still quite impactful and that is what most of the nerfs were targeted towards. Rather than reverting that and bringing back frustration, we want to increase the power of Base Cu Chulainn and his teamfight potential. Spear of Mortal Pain's cooldown is being reduced. This will allow him to bring more control to fights, while giving him a large boost to his Rage."
Lance de la Douleur Mortelle (Cri de Guerre) (Spear of Mortal Pain(War Cry))

•

Réduction du Temps de Rechargement de Lance de la Douleur Mortelle 100s à

85s

.

•

Mise à jour de la description afin d'indiquer le Temps de Rechargement de la Compétence Ultime de la transformation (35s).
---
GUAN YU

"A while back Guan Yu got significant changes that pushed him towards the top of Ranked and Normal play. His Passive applying to all abilities while in combat caused him him excel in many ways, especially with Conviction getting a 2x healing multiplier. When we changed this to 1.5x he quickly fell out of favor and went back to struggling behind the rest of the Gods.

We feel we can bring back some of his healing capability and find a solid middle ground where Guan Yu will feel impactful but not overwhelming."
Conviction

•

Augmentation du bonus du soin de 50% à

70%

.

---
HADÈS

"Hades is a god who has undergone a larger identity shift over the years. Previously a Guardian, today he plays as a Point Blank AoE Mage with high damage potential with high tradeoffs, but older stats that made sense back then currently hold him back from accomplishing this.

We are increasing Hades' base movement speed to better facilitate his close range damage. Pillar of Agony will also be buffed, specifically by increasing the Protections Hades receives while firing the ability. These two changes should help bring together Hades' entire kit, allowing him to build more damage but still survive team fights."
Général

•

Augmentation de la Vitesse de Déplacement de 355 à

365

.

Pilier d'Agonie (Pillar of Agony)

•

Augmentation des Protections de 60/70/80/90/100 à

60/85/110/135/160

.

---
VÃMANA

"Colossal Fury is supposed to be a moment of high impact where Vamana can charge forward and lead his team, but he often struggles at accomplishing that goal. The bonus health is not enough to keep him alive through focused damage and in many cases a single god can invalidate its use.

We are increasing how frequently the heal occurs, and decreasing the amount to make his health regeneration more smooth. We are also adding a stacking Health Shield that will boost his survivability during combat without increasing his out of combat healing. Finally, Colossal Fury will now allow Vamana to step through players and player made walls, making him much more difficult to block from a fight."
Furie Colossale (Colossal Fury)

•

Vāmana gagne maintenant un Bouclier de Santé cumulable chaque seconde à hauteur de 0,6% de sa Santé maximale par 0,2s. Ce Bouclier se dissipe à la fin de la Compétence Ultime de Vāmana.

•

Modification du temps entre deux à-coups de soin de 1s à

0,2s

.

•

Peut maintenant traverser les murs des joueurs lorsque sa Compétence Ultime est active.
0 Commentaire(s)
SUR "

Notes du Patch du 17 Décembre 2018

"

Copyright Smite France © 2013-2019