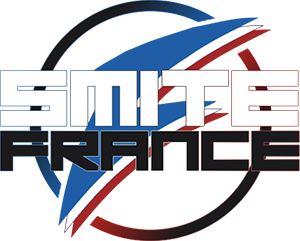 Notes du Patch du 15 Mai 2018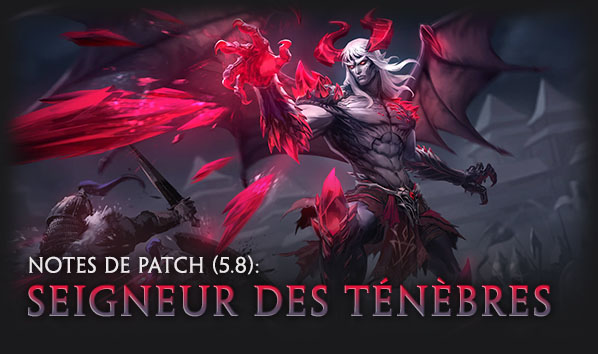 Patch 5.8 : Seigneur des Ténèbres
---
Merci à Kingkkrool et Lemathelin pour la traduction.

Nouveau Dieu
TCHERNOBOG
– Seigneur des Ténèbres –
| | | |
| --- | --- | --- |
| | | Slave |
| | | Chasseur |
---
---
Compétence Passive – Coeur de Glace (Heart of Cold)

Chaque Attaque de Base réussie plante en l'ennemi une fracture de cristal. Après avoir subi 3 cumuls de Coeur de Glace, l'ennemi explose, infligeant des dégâts de zone supplémentaires autour de lui

.

•

Dégâts : 15% + (1% * votre Niveau) de votre Attaque de Base.
Malédictions Cristallisées (Crystallized Curses)

Tchernobog conjure un grand cristal de malédictions et le lance violemment dans la zone ciblée, y infligeant alors des dégâts. Après quelques secondes, les malédictions cristallines explosent à nouveau et Enracinent tous les ennemis dans la zone. Le cristal peut exploser plus tôt en tirant dessus avec Barrage Vicieux.

• 

Dégâts (Initiaux) : 50/80/110/140/170 (+80% de votre Puissance Physique).

• 

Dégâts (Explosion) : 50/80/110/140/170 (+80% de votre Puissance Physique).

• 

Durée d'Enracinement : 1s.

• 

Coût de Mana : 60/65/70/75/80.

• 

Temps de Rechargement : 15/14/13/12/11s.
Barrage Vicieux (Vicious Barrage)

Tchernobog tire un gros éclat de cristal traversant les adversaires et leur infligeant des dégâts considérés comme une Attaque de Base. Cette attaque ajoute donc un cumul de Coeur de Glace à tous les ennemis touchés et déclenche instantanément Malédictions Cristallisées. Tchernobog gagne un bonus de Vitesse d'Attaque pendant quelques secondes après avoir utilisé cette compétence.

• 

Dégâts : 100% des dégâts de votre Attaque de Base.

• 

Augmentation de Vitesse d'Attaque : 30/40/50/60/70%.

• 

Durée : 3/3,5/4/4,5/5s.

• 

Coût de Mana : 80/85/90/95/100.

• 

Temps de Rechargement : 12s.
Dans les Ténèbres (Into Darkness)

Tchernobog fonce droit devant avec ses ailes en forme d'ombre, infligeant des dégâts aux adversaires sur le chemin et les Ralentissant. Si vous entrez en contact avec un mur, vous vous y connectez, devenant une ombre sur le mur pendant quelques secondes. Vous ne pouvez pas être touché ni ciblé pendant cette durée. Vous gagnez une deuxième Ruée en quittant le mur ou pouvez annuler la compétence pour le quitter plus tôt

.

• 

Dégâts : 60/75/90/105/120 (+45% de votre Puissance Physique).

• 

Ralentissement : 25%.

• 

Durée du Ralentissement : 2s.

• 

Coût de Mana : 70.

• 

Temps de Rechargement : 18/17/16/15/14s.
Compétence Ultime – Cauchemard Vivant (Living Nightmare)

Pendant une courte période de canalisation, Tchernobog invoque des ombres là où se trouvent les adversaires, ce qui les Ralentit et dure 8s. Tchernobog peut choisir un de ses clones d'ombres pour voler jusqu'à lui. Une fois qu'il atteint cet endroit, il prend la place de son ombre, réinitialisant ses Temps de Rechargement, obtenant une Atténuation des Dégâts temporairement et un bonus de Vitesse de Déplacement. Chaque attaque déclenche Coeur de Glace

.

• 

Atténuation des Dégâts : 20/25/30/35/40%.

• 

Vitesse de Déplacement : 30%.

• 

Durée des Caractéristiques Bonus : 6s.

• 

Coût de Mana : 80/90/100/110/120.

• 

Temps de Rechargement : 110s.
---

Tchernobog Diabol
(Recoloré)

Nouveaux Costumes de Dieux
---
---
---
---

Insurrection Divine
« Avec ce patch, nous sortons notre événement Insurrection Divine dans lequel nous révélons nos plans futurs concernant la sortie de 3 nouveaux panthéons au jeu. Rejoignez Bellone et embarquez-vous pour un voyage à travers le monde afin de rencontrer ces nouveaux Dieux.

Débloquez toutes les récompenses d'un chapitre pour débloquer un costume exclusif ! La récompense ultime du chapitre Slave sera le costume Tchernobog Cosmique.

Débloquez toutes les récompenses des trois chapitres pour débloquer le costume R5 Limité Bellone Draconique ! »
Allez-voir sur le site de l'Insurrection Divine pour plus de détails !

Divers
Nouveaux Dieux GRATUITS
Ces Dieux seront débloqués pour tous les joueurs qui commenceront à jouer à partir du patch 5.8 :

• 

Arès

• 

Artémis

• 

Bellone

• 

Némésis

• 

Kukulkan
---
Mise à Jour du Tutoriel
La carte d'introduction, le Tutoriel de Base et le Tutoriel d'Arène ont été combinés en un seul niveau de turoriel

.
---
Nouveaux Objets Cosmétiques
• 

Effet de Fontaine Slave

• 

Cadre de Chargement Slave

• 

Emote Globale Mérique!
---
Coffre Époustouflant
Nouveaux Ajouts au Coffre Epoustouflant

• 

N

ezha Meneur

• 

Cerbère Molosse de l'Oubli

• 

Discorde Reine de l'Oubli
---
Boutique de Points de Fantaisie
Nouveaux Ajouts à la Boutique de Points de Fantisie

• 

Hercule La Roca

• 

Bastet Dompteuse des Étoiles

• 

Týr PiraTýr

Équilibrages – Objets
Bénédiction du Guerrier évoluée (Evolved Warrior's Blessing)

"At the start of Season 5, Warrior's Blessing seemed to pale in comparison to the other Blessings so we brought up its power to make it more attractive. Throughout Season 5 this item has dominated the solo lane, keeping its owner healthy while warriors who choose other options fall behind. After seeing its continued success and power it brings over the course of the game, we are reverting one of the buffs from that patch."
•

Réduction des Protections gagnées lors de l'évolution de cet objet de 15/15 à

10/10

.
---
Moissonneur d'Âmes (Soul Reaver)

"Mage itemization underwent many changes at the start of this season. We buffed many items to help balance out the loss of the Rod of Tahuti passive, one of which was Soul Reaver. We are partially reverting this change as mage builds have settled down. This item is intended to have high burst potential and that feature should come at a hefty cost."
•

Augmentation du Coût de 2650 à

2750

.
---
Pierre de Fal (Stole of Fal)

"When purchased, Stone of Fal provides powerful anti-burst defence. However at a high gold cost, a long Temps de Rechargement on the effect, and a high trigger threshold it became a very risky pickup that could put you behind. We are reworking the passive to trigger most reliably against multiple ability bursts while lowering the cost to make it more affordable as a defensive pickup."
•

Réduction du Coût de 2500 à

2300

.

• 

NOUVEAU PASSIF – 

À chaque fois que vous devriez subir des dégâts à hauteur de plus de 20% de votre Santé maximale à cause d'une compétence Magique, ces dégâts sont réduits de 10%. Cet effet n'a pas de Temps de Rechargement.
---
Tenue du Chasseur d'Oni (Oni Hunter's Garb)

"Oni Hunter's Garb had an all or nothing passive, making its use cases very restrictive. We have redesigned it to provide smaller amounts of damage mitigation for every enemy god around you up to 3. This lets it reach a similar amount of strength as the old passive but contribute smaller effects with only 1 or 2 enemy gods nearby."
•

NOUVEAU PASSIF – 

Pour chaque Dieu ennemi dans les 55 unités, vous gagnez 2% d'Atténuation des Dégâts cumulable jusqu'à 3 fois.

Équilibrages – Dieux
ACHILLE

"The Hero of the Trojan War has been a very popular pick and ban since his ability to join Ranked and SPL matches. His early pressure combined with a strong Crowd Control allows him to quickly overpower opponents, even if his late game isn't at the same level of other picks. We are reducing the spread damage he gets with Shield of Achilles, while reducing the double-tap damage from Combat Dodge. These should help lower the early pressure he brings and allow players to bring him to the mid and late game where his Achilles' Heel really shows."
Bouclier d'Achilles (Shield of Achilles)

•

 Réduction des dégâts aux cibles dans le cône extérieur de 80% à

70%

.

Élusion du Combat (Combat Dodge)

•

 Réduction des dégâts de 65/105/145/185/225 à

55/95/135/175/215

.
---
APHRODITE

"Aphrodite's Kiss requires constant management. Players must balance the ability between kissing their allies to quickly heal or stunning enemies and take an increased Temps de Rechargement. We want to help Aphrodite players have more control over a fight by allowing them to switch targets much more quickly, allowing Aphrodite to save allies just in time with heals or her ultimate and then quickly follow up by stunning an enemy."
Baiser (Kiss)

•

 Réduction du Temps de Rechargement de cette compétence si vous touchez un Dieu allié de 3s à

1s

.
---
GUAN YU

"Guan Yu's hit chain has some unique animations that feel like they should have specific effects other gods have on theirs. His third hit which is a large swipe will now cleave enemies in the area, and the final hit which is a long forward strike will now have longer attack range. Along with this is passive is getting a tweak, allowing him to maintain maximum stacks as long as he stays in combat. As a god that is known for his extended fighting capability due to his low cooldown, he now has a passive that matches that playstyle."
Attaques de Base

•

 

La troisième frappe de la progression des Attaques de Base de Guan Yu frappe maintenant en zone.

•

 Augmentation de la portée de la troisième frappe de la progression des Attaques de Base de Guan Yu de 12 à

16

.

•

 Les deux premières frappes de la progression des Attaques de Base de Guan Yu n'ont pas été modifiées.

Indolore (Painless)

•

 

Les charges ne se réinitialiseront désormais uniquement hors combat au lieu d'être consommées lors de l'utilisation d'une compétence.
---
KHÉPRI

"Khepri has been having a hard time protecting his teammates lately. Solar Flare should be a strong poke and setup crowd control but it struggles to threaten and control enemies. We are bringing up the root duration while also increasing the late game power of this ability, bringing him more inline with other supports."
Éruption Solaire (Solar Flare)

•

 Augmentation de la durée d'Enracinement de 1,3/1,4/1,5/1,6/1,7s à

1,5/1,6/1,7/1,8/1,9s

.

•

 Augmentation des dégâts de 50/100/150/200/250 à

60/115/170/225/280

.
---
KUZENBO

"Kuzenbo is seeing a shift to reduce some of the frustration when fighting him (Shell Spikes), while allowing the other abilities of his kit to shine through. Shell Spike's damage reflect is being reduced, but the cooldown reduction per tick of Shell Spikes on NeNe Kappa will also apply to Sumo Slam. His ability to control enemies in a teamfight will be heavily influenced by how many times he can reflect damage. Additionally, Water Bowl is seeing an increase in damage mitigation. Smart Kuzenbo players can maximize this mitigation to really get into the middle of a fight and cause disruption with relative safety."
Bol d'Eau (Water Bowl)

•

 Augmentation de la Réduction des dégâts par cumul de 1% à

1,5%

.

► Au total, augmentation de la Réduction des dégâts de 10% à

15%

.

Carapace d'Épines (Shell Spikes)

•

 Réduction des dégâts réfléchis de 20/25/30/35/40% à

10/15/20/25/30%

.

•

 Réduction du Coût de Mana de 50/55/60/65/70 à

50

à tous les niveaux.

•

 Cette compétence réduit dorénavant le Temps de Rechargement de Frappe Sumo du même montant que pour Kappa NeNe.
---
NÉMÉSIS

"Back in Season 4 Nemesis was adjusted to improve her weak early game and fix her inability to contribute to a fight outside of her ultimate. These changes were successful for her at the time, but with Season 5 the Meta has shifted and Nemesis benefits greatly from it. Fast jungle clear and higher bases damage are even more important than before. We have adjusted her a few times in Season 5, as well as some items she uses, but she still has a strong early presence that translates into a strong late game. We are bringing down the base damage of her primary clear tool, Slice and Dice. This should make her more comparative to other junglers in terms of clear speed while also lowering her mid to late game burst potential."
Coupe et Tranche (Slice and Dice)

•

 Réduction des dégâts de 50/80/110/140/170 à

40/70/100/130/160

.
---
TELLUS (TERRA)

"Terra has been rockin' it since the ultimate rework, showing how impactful her aggressive frontline playstyle can be. However, the swing she brings to a teamfight is very difficult to deal with. We are reducing the damage mitigation/amplification swing in half to give teams a strong opportunity to engage against Terra while giving high level players the ability to quickly focus down Monolith. Terra players will have a harder time dancing around Monolith before needing to decide to break it or flee."
Monolithe (Monolith)

•

 Réduction du nombre de coups nécessaires à la destruction du Monolithe de 5 à

3

.

Furie Terrestre (Earthen Fury)

•

 Réduction de l'Atténuation des Dégâts de 10% à

5%

.

•

 Réduction de l'augmentation des dégâts de 10% à

5%

.
---
THOR

"In our last round of changes we focused on improved clear through Berserker Barrage, but these changes did not help him enough in that department. In most cases, Berserker Barrage is not the correct ability to take for level 1 jungle clear. Mjolnir's Attunement is getting a buff towards minion and jungle camp clear, allowing the return hit to deal more more damage. This makes it clearly the best option for his early jungle pathing."
Expiation de Mjöllnir (Mjolnir's Attunement)

•

 Augmentation du pourcentage de dégâts que le retour du marteau inflige aux Sbires de 50% à

80%

.
---
VÃMANA

"Vamana suffers from very high Coût de Manas, limiting his ability to trade in lane and causing him to mostly focus on wave clear. We want to allow him to have the same flexibility with his abilities as other Warriors do."
Dégagez le Passage (Clear the Path)

•

 Réduction du Coût de Mana de 70/75/80/85/90 à

70

à tous les niveaux.

Ombrelle Blindée (Armored Umbrella)

•

 Réduction du Coût de Mana de 60/70/80/90/100 à

60/65/70/75/80

.
Ombrellerang (Umbrellarang)

•

 Réduction du Coût de Mana de 60/70/80/90/100 à

60/65/70/75/80

.
---
XBALANQUE

"Xbalanque relied on getting kills to activate his passive which resulted in very high variability and frustration if teammates happened to take the last hit. Xbalanque should have control over his ability to stack his passive through his own play. Dawn Of Night now stacks off Xbalanque's player damage dealt, allowing him to more reliably reach his maximum stacks assuming he can aggress the enemy team successfully. Rising Jaguar is also getting a Coût de Mana reduction in the late game when he wants to spend more mana on Branching Bolas."
Au Coeur de la Nuit (Dead of Nights)

• 

Cette compétence se charge dorénavant en fonction des dégâts du joueur et non du nombre de Dieux ennemis tués. Tous les 1000 dégâts infligés par Xbalanque, il gagnera 1 charge.

Levée du Jaguar (Rising Jaguar)

•

 Réduction du Coût de Mana de 60/70/80/90/100 à

60/65/70/75/80

.
4 Commentaire(s)
SUR "

Notes du Patch du 15 Mai 2018

"

Copyright Smite France © 2013-2018